Racing is a fascinating mystery. The weird terminology and expressions are only a part of the journey you start when you pursue this lucrative sport of betting on horse races. When you go on the journey, you join a movement that has been ingrained in racing culture for hundreds of years. The sport has had many loyal followers, and it has long captivated people from all walks of life.
For newbies, horse race betting can be scary. The sport uses distance measurements that date back to the late 13th or early 14th century. Once you move past the conventional win bets, the wagers become even more perplexing.
We have this beginner's guide to horse racing betting with that in mind. It will offer you the knowledge you need to understand the terminology, aid in horse evaluation, and enable you to enjoy a day at the races.
What you should keep in mind before making a bet!
How do you choose a successful horse? Numerous books have been written over the years on locating and picking the best filly or colt to bet on. Finding winning horse race picks is by no means an easy task.
Here are some basic horse racing betting tips that we think you should follow when starting your journey with racehorse betting: -
The Favourite Isn't always the Safest Bet
The game of horse racing is typically unpredictable. Only around 30% of the time your favourite horses win, so you'd probably lose money if you showed up to an event and bet exclusively on the favourites throughout the day. The trick is to find the horse that delivers the most value rather than the one that is most likely to win. To find value, you must make informed decisions and conduct thorough research.
Know the Horse Race Terminology
Horse Racing uses a variety of terms and phrases, just like every other sport played around the world. It's crucial to become familiar with these expressions, so here are some popular ones to get you started. These are the different types of exotic bets you can be expected to make:-
Exacta - Choose the top two finishers in the right order.
Quinella - Choose the top two finishers in any order.
Trifecta - Choose the top three finishers in the right order.
Superfecta - Choose the top four finishers in the right sequence to complete the right order.
Know your horses
It is always better to know which horse you are betting on based on following circumstances:
Keep an eye on who won last time
Horses in good form frequently string together with winning streaks of two to three in five races. A good place to start is usually by considering previous winners who appear to be capable of winning again.
Good ratings
You might have a winner on your hands if you can locate a horse that set a personal best in its most recent race.
Past race comments
This knowledge is very valuable. If you search online for horses that have been described as having "ran on well" or "quickened," you will locate a filly or colt in good condition.
Change in class
In the hopes of a miracle, trainers can enter lesser horses in "higher" class races. Therefore, if you're considering a runner with a respectable recent record, consider the calibre of its competitors. Likewise, if a horse has fallen a class, it could be worthwhile to investigate.
The other horses
How the race is conducted and how much of a chance your entrant has will depend on the other horses. An outsider's prospects of maintaining the pace are slim if there are a few horses that enjoy getting an early start and are considered front runners.
Look for a comeback
While it's simple to concentrate on the horses who ran exceptionally well last time and finished first or second, the trick to getting the big prices (your 33/1s and so on) is to look for horses who may have performed poorly in the past but will be ready to compete in a major event due to a change in circumstances or because they are more prepared after a break.
Understand the different surfaces
Different horses run better on different surfaces, just like a tennis player would prefer a clay court to grass, or a silky-skilled football winger might not like it on a rainy Tuesday night.
In contrast, runners that really hit the ground hard are more likely to prefer the slightly more forgiving, softer turf - and obtain more sprinting force from gripping into the ground. Dry courses (also called "firm" or "good to firm") will see the fastest speeds and favour daintier horses.
While placing a wager on a horse, consider the track it will be competing on. Don't back your horses blindly without first checking their favourite surfaces because previous form on the surface, especially with deeper ground, can be crucial.
This is barely the tip of the iceberg when it comes to horse racing, and having guaranteed horse race picks, you will be able to learn all that there is to know about the sport.
There's one safe bet you can make!
If you're ready to start your horse race betting career, and don't know where to find the best tip sheet, you're at the right place! At Guaranteed Tip Sheet, our horse racing picks combine historical success with good old-fashioned intuition, unlike other tip sheets that are entirely dependent on computer statistics. Each race is hand-picked by our expert handicapper.
Get Our Current Horse Racing Picks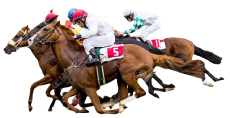 Unlimited Tracks
Starting At $10!
BUY NOW!
100%

Money
Back if you don't win!