Gulfstream Park, a Thoroughbred racetrack, casino, and outdoor entertainment and shopping destination in Hallandale Beach, Florida, is currently owned by The Stronach Group. Three distinct race meets characterise the year-round thoroughbred horse racing that takes place. It is one of the most significant horse racing venues in the country. The 365 days a year Gulfstream Park Casino is open and has video poker, electronic table games, and slot machines.
Although the South Florida oval was built in 1939, its reliance on Thoroughbred racing was eliminated in 2006 when owner Frank Stronach invested $200 million in transforming the property into a mixed-use playground with a casino, eateries, nightclubs, and high-end shops.
Visitors are greeted at the track's entry by a garish statue of Pegasus slaying a dragon that is 110 feet tall, a creation of Stronach. The $30 million winged horse was transported in pieces from China and Germany and was a massive display of ostentatiousness like that found in Las Vegas. Nothing says "Welcome to Gulfstream Park" better than a horse trampling on a Chinese-made reptile, as one local realtor joked.
The Gulfstream Park Racetrack is one of the world's premier racetracks, which is why it attracts such a large crowd from all over the world. But before you go, you should know a little bit about the history of the racetrack. You don't have to be a horse racing expert or be looking for Gulfstream racing tips to enjoy this article. Here is everything you need to know about Gulfstream Park.
A Brief History of the Park
The inaugural racing season at Gulfstream Park took place in 1939. 1 February saw a larger than anticipated attendance of 18,000 people for the meet's first day. A $224,287 mutuel handle was lost through the windows. The good beginning was short-lived, though, as not enough was produced over the following three days. Due to a lack of funding, the owners closed the track after the fourth day.
The following four years saw no activity at Gulfstream Park. One of the creditors who went unpaid when Gulfstream Park shuttered, James Donn Sr., stepped in and took control.
In 1944, the abandoned track held a 20-day racing meeting with an average turnout of 4,534 spectators and a handling of $281,902. For Gulfstream Park, James Donn Sr. saw a glimpse of optimism. Donn Sr. put in place a substantial improvement programme throughout the next years. The Gulfstream Park Handicap was introduced in the early years, and additional barns and an administration building were built. The Florida Derby was established in 1952, and a clubhouse was constructed.
The Florida Derby eventually earned the status of a Grade 1 classic with a $1 million payout. The track hosted the Donn Handicap's first race three years later. It is now acknowledged as one of the most renowned competitions for older horses in the country.
Gulfstream Park introduced its renowned grass course in 1959. Jockeys and horsemen were eager to praise the lush infield oval. During the three decades that three generations of Donns served as track president, Gulfstream Park kept moving in the direction of being a top-notch racing and entertainment venue. The fact that Gulfstream Park hosted the Breeders' Cup in 1989, 1992, and 1999 is evidence of its prominence in the North American horse racing industry. The Hallandale Handicap was run in 1990, when the legendary Bill Shoemaker rode Beau Genius, the race's eventual winner, to victory.
In the 1990s, there were multiple ownership changes at Gulfstream Park. In 1990, Bertram and Diana Firestone bought it. The next year, Gulfstream Holdings Inc., a division of Orient Corporation, purchased Gulfstream (USA). Magna Entertainment then completed the acquisition of Gulfstream Park in September 1999. Some of racing's most illustrious accomplishments have taken place at Gulfstream Park. The track has hosted 160 national thoroughbred champion races. And more are anticipated to contribute to the famed history of the track in the years to come.
Things to do at the Track
No one track in America has the market cornered for an entire season like Gulfstream does for winter because of its consistently pleasant climate. Gulfstream holds elite stakes races every Saturday from December through March, with crowded allowance and claiming fields to boot, while the rest of the nation shovels snow off its stables. The Holy Bull, Fountain of Youth, and Florida Derby are three graded stakes for 3-year-olds that are crucial for Kentucky Derby contenders, while the ground-breaking, $16 million Pegasus World Cup Invitational in January is the track's highlight for older horses.
Track Attributes
If you're here to get some Gulfstream Park tips, then these are the basics you should know- there are three tracks at Gulfstream Park, each with a distinctive racing surface: a one-turn mile-long dirt track spanning one and one-eighth miles, a synthetic Tapeta track of one mile and seventy yards, and a seven-furlong turf course.
Before a 2004 makeover, Gulfstream featured a one-mile dirt track; the dirt oval was expanded by a furlong, and the turf course's width was increased from 80 to 170 feet. In a subsequent refurbishment in 2021, a Tapeta surface was installed in place of the turf course's outer section.
Gulfstream Park is the Place to Be!
If you're planning a trip to Gulfstream Park, we have the perfect place for you to get the best tips and Gulfstream Park picks that you can trust. At Guaranteed Tipsheet, you can find free picks and stats for all upcoming races. Guaranteed Tipsheet is also a trusted handicapper for Forbes, Horse Racing Nation and more.
Get Our Current Horse Racing Picks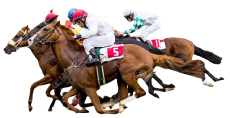 Unlimited Tracks
Starting At $10!
BUY NOW!
100%

Money
Back if you don't win!