Looking for monthly packages
? Our BULK purchase options are below or on the right side of the page -->
view last year's wagering guide
GET IT FREE - Must have valid TIPSHEET purchase (daily or subscription) for June 10th
DAILY BEST BETS
Here you can purchase our BEST BETS SEPARATELY for each race date. Each sheet includes 3 of our strongest picks for each track running that day, including our top 6 picks for those races. Note that BEST BETS are already included with our daily tipsheets. Our best bets are currently in the money 72% of the time (on average).
OUR TIP SHEETS feature up to 6 picks for each race (4 main picks and 2 alternates). Alternates can be used in the event that one or more of our top 4 picks are scratched or in advanced wagering strategies. Our sheets are updated LIVE throughout the day to show late scratches and replacement picks as well as jockey changes and current track condition. Each sheet also features the day's BEST BETS at each track.
See a Sample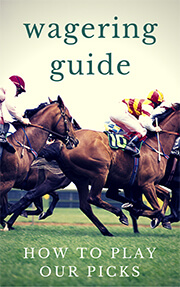 Purchase any BULK package and get our WAGERING GUIDE for FREE. click for sample
SPECIAL OFFER: Purchase any monthly package on or before before June 10th and receive our full card Belmont Stakes picks, exclusive Belmont Stakes Wagering Guide, standard 30-page wagering guide plus all tracks and races for the length of the subscription.

Buy In Bulk and Save Over 80%

ALL BULK PACKAGES INCLUDE ALL TRACKS, RACES AND BEST BETS FOR THE LENGTH OF THE SUBSCRIPTION.