Charles Town in West Virginia has a long tradition of horse racing. The Hollywood Casino complex at Charles Town hosts live thoroughbred racing and is home to the Charles Town Classic, Race for the Ribbon, and West Virginia Breeders Classics.
The Racing Track
The track at Charles Town is a short one and has a dirt surface. There is no grass track. The dirt surface is a lap of three-fourths of a mile which means that races involve more turns on the tracks here than at other races. For example, a 7-furlong race typically takes one turn of the track but at Charles Town, such a race would take 3 laps of the track. Charles Town is also the only track to consistently host shorter races, like the 4 furlongs race. Owing to the short track, early speed is a major advantage at this track and is a factor that influences Charles Town horse racing picks.
The facility has a glass-enclosed grandstand and clubhouse with a combined seating capacity of around 6000.
The Races at Charles Town
Charles Town is one of the few tracks that run a full-year schedule - January 1 st to December 31 st . Races are held every Thursday, Friday, and Saturday while a few months have races on Wednesdays too. The races start at 7 pm and the track sees 8 races per night.
Charles Town offers a standard menu to place bets. So, there are many options where you can use Charles Town race tips to place your bets. These include the traditional bets of win, place, show, and across-the-board. These are the most straightforward bets. The payout on these may be lower than on other bets but if you are new to horse racing these will be good to start with. Charles Town tips will be easily available which you can consult to place your wagers.
Other than these, you can also wager on your Charles Town picks for exacta, trifecta, superfecta, daily double, Pick 3 and Pick 4. The doubles and Pick 3's are offered on every race and there are two Pick 4's every night. Other than this, there is also a jackpot Pick 6 which carries a 12% takeout and a 20-cent minimum bet. This begins in the third race every night. So, plenty of chances for a racing enthusiast to be ready with their Charles Town horse racing picks and bets.
The Facilities
The Charles Town Sportsbook at Hollywood Casino has lots of exciting offers for sports lovers, in particular, for horse racing enthusiasts. The Sportsbook boasts lounge seating which includes personal viewing stations. There are 24 odds monitors giving you a good view at any time of the Charles Town picks to help you place your bets. The complex also has 50 feet of walls with 80-inch television sets on which bettors can watch sports and place bets.
Charles Town also has the facility for simulcast racing which allows its patrons to watch and bet on live races happening at other tracks. And they can do all this with friends while they enjoy food and beverages. For a change of pace, bettors can also try their luck at the many casino games at Hollywood Casino like slots, poker, craps, roulette, blackjack, etc.
Online Betting at Charles Town Sportsbook
You can place your bets on Charles Town picks online too. Online betting went live at Charles Town in 2019. To be able to download the app and open an account you need to be physically located in West Virginia and also be 21 or older. There are verification systems in place to check these conditions. Through the app, you can not only wager on your Charles Town horse racing picks but also avail many promotions and offers.
Summing Up
Charles Town offers a lot of excitement for horse racing enthusiasts. The unique track gives bettors many opportunities to place their bets using Charles Town horse racing tips. The variety of entertainment at Hollywood Casino and the Charles Town Sportsbook makes the prospect of watching and betting at this track very exciting.
If you need reliable Charles Town race tips, look no further than Guaranteed Tip Sheets. You can download daily tip sheets for the races. Our sheets are updated live through the day to reflect current track conditions, jockey changes, late replacement picks, etc. You can download pro tip sheets by subscribing to our monthly packages. With the package, you also get bonus commentary as well as custom wagering strategies on all races. Download our app and see a free sample now.
Get Our Current Horse Racing Picks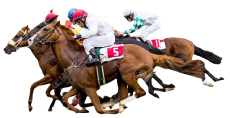 Unlimited Tracks
Starting At $10!
BUY NOW!
100%

Money
Back if you don't win!